ART STEVENSON & HIGH WATER
Great Bluegrass Music
"Art Stevenson IS Bluegrass in Wisconsin!" --WPR Wisconsin Life

Read the article about Art Stevenson on the Wisconsin Public Radio website!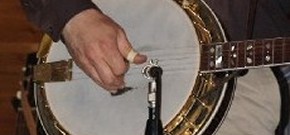 Here is Whiskey Before Breakfast. This tune remains popular in jam sessions. Hope you enjoy this arrangement.

If you have any questions or comments about this project, please let me know by using the comment form. What is your suggestion for the next tablature in this series?

Thanks, Dale
Just for fun, here is a link to one of the all time great banjo cartoons. This first appeared in the November 7, 2011 issue of the New Yorker magazine.