ART STEVENSON & HIGH WATER
Great Bluegrass Music
"Art Stevenson IS Bluegrass in Wisconsin!" --WPR Wisconsin Life

Read the article about Art Stevenson on the Wisconsin Public Radio website!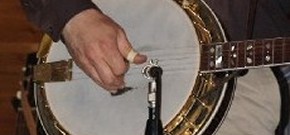 Art Stevenson & High Water
Band Members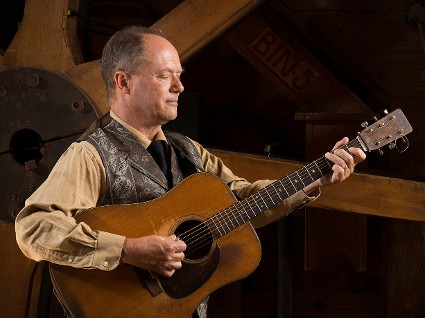 Guitarist, singer, and harmonicist Art Stevenson (Babcock, Wisconsin) has played in bluegrass bands since the late 1970s. Art learned bluegrass guitar after attending the Mole Lake Bluegrass Festival in 1976, and he has played harmonica since early childhood. Art organized Art Stevenson & High Water in 1993. Art is known for his powerful lead singing on traditional bluegrass, early country, and western ballads, and for his driving rhythm guitar playing. His harmonica renditions of fiddle tunes like Orange Blossom Special always bring the house down. Art is promoter of Bluegrass In The Pines, a long running bluegrass festival in Rosholt, Wisconsin, and hosts Back To The Country on WORT 89.9 FM, Madison.
| | |
| --- | --- |
| Dale Reichert keeps the drive alive on the ol' five. He also sings baritone and bass vocals, plays the Dobro, and is featured on all of High Water's recordings. Before joining High Water, he worked with bluegrass groups in Ohio, Kentucky, and Minnesota. Dale also spent several years along with Art as a member of the Wisconsin River Bluegrass Boys. Dale lives with his wife and daughter near Custer, Wisconsin. In November 2000, Dale was nominated for the "Favorite Banjo Player" Award by the Minnesota Bluegrass and Old Time Music Association. | |
| | |
| --- | --- |
| | Bruce King (Wauwatosa, Wisconsin) joined High Water in 2001 on the mandolin. Bruce is a scholar of Bill Monroe's compositions and knows dozens of mandolin instrumentals. He plays his instrument with a hard drive and keeps the rhythmic groove going when he's not exploring the mandolin fretboard as a soloist. An excellent harmony singer, Bruce can take lead, tenor, or baritone vocal parts on trios, duets, or quartets. These days, Bruce sings most of the tenor harmony in our vocal arrangements. |
| | |
| --- | --- |
| | In early 2020, Stephanie Stevenson decided to leave the band after 27 years on bass and vocals. Bruce Royal King (Milwaukee, Wisconsin) came on board as our new bass player in early 2021 as the band emerged from the pandemic. Yes indeed, he's our mandolin player's son! We're very happy to have him in the band, and he brings with him several years of experience playing bass with other Wisconsin bluegrass groups. Along with his hard driving bass groove, Bruce Royal sings lead and harmony, and we are working him into the vocal arrangements the band is known for. |