ART STEVENSON & HIGH WATER
Great Bluegrass Music
"Art Stevenson IS Bluegrass in Wisconsin!" --WPR Wisconsin Life

Read the article about Art Stevenson on the Wisconsin Public Radio website!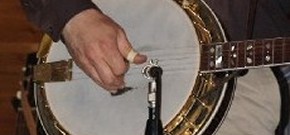 Email us for more information on show dates and schedules, or call 715-884-6996.
2023 High Water Appearances
2024 marks our 32nd year in the music business!
We hope to see you at one of these upcoming concert dates!
2024 High Water Appearances
Jan. 27 Central Waters 26th Anniversary Party, Amherst, WI
Mar. 13 Steak Night Invitational, The Showboat, Wisconsin Dells, WI
Apr. 20 Ladies of Bluegrass Festival, Green Bay, WI
May 11 Pittsville Area Foundation For The Arts Concert, Pittsville, WI
June 7-8 6th Annual Bluegrass At The Lake, Wisconsin Rapids, WI
June 21-22 Flatrock Music Festival, Armstrong Creek, WI