ART STEVENSON & HIGH WATER
Great Bluegrass Music
"Art Stevenson IS Bluegrass in Wisconsin!" --WPR Wisconsin Life

Read the article about Art Stevenson on the Wisconsin Public Radio website!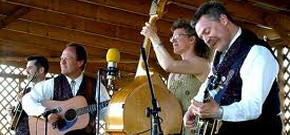 Email us for more information on show dates and schedules, or call 715-884-6996.
2020 High Water Appearances
2021 marks 28 years in the music business for Art Stevenson & High Water!
Dear Friends, although the band has been inactive throughout much of 2020-21 due to the Covid 19 pandemic and other reasons, we are optimistic about the future. Some of the shows we had booked in 2020 were simply postponed until 2021! Here is the current list of 2021 shows...Art's solo appearances will be listed here as well.
2021 High Water Appearances
Jan. 9 High 48s with Art & Stephanie Stevenson Virtual Bluegrass Brunch 11AM
Jan. 30 Dale Reichert & Art Stevenson, 6:00 webcast from Central Waters Brewing
May 14 Private Party, Stevens Point, WI
June 11-12 3rd Annual Bluegrass At The Lake, Wisconsin Rapids, WI
June 27 Willow Springs Garden, Wausau, WI 7:30 PM
July 15 Art solo show at Sand Valley Golf Resort, Rome, WI 5PM
July 30 Art solo show at Sand Valley Golf Resort, Rome, WI 5PM
Aug. 8 Drive Your Tractor To Church, New Hope, WI 10AM
Aug. 21 Gandy Dancer Festival, Mazomanie, WI
Aug. 26-28 11th Annual Bluegrass In The Pines Festival, Rosholt, WI
Sept. 4 Jackpine Jamboree (tentative), Birnamwood, WI
Nov. 6 Bluegrass Sampler, Racine, WI